This post previously appeared on crashposition.com in Aug 2007.
The Edinburgh Festival Fringe is the worlds largest arts festival. Now in it's 61st year the 2007 Fringe kicked off earlier this week. Sadly I'm not going to make it this time but my brother and I were regular visitors for many years. Although the Fringe encompasses some great music and theatre our favourite was always the comedy. Over the next few weeks I'll be taking a nostalgic look back at my Fringe highlights starting with a real gem from the mid nineties.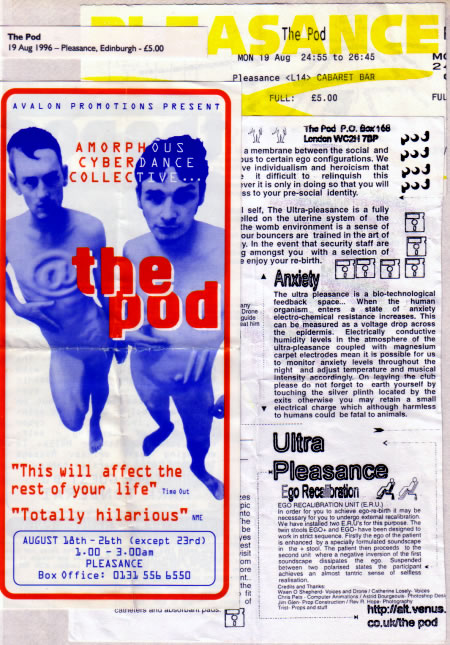 This was an after hours show at my favourite venue, The Pleasance Cabaret Bar (of which you'll hear more in future posts). We had just tumbled out of a show called The Comedy Zone and was handed a flyer by an earnest man in a silver space suit. You get handed a lot of flyers in Edinburgh, but this one looked interesting. It promised Techno music, a late bar and mind alteration machines. Now that sounds like a night out.
They were of course brilliant. A wonderful pastiche of bands like The Shamen and ColdCut, all delivered with a wonderfully sincere dead pan delivery by a pre Mighty Boosh, Jullian Barrett. What elevated them to "classic" status though was the music. Save the world new-age-techo never sounded so good.
Enjoy a classic 1996 interview with The Pod from London Shouting.
Kiss the ruby, smell the snake…
Published