This post previously appeared on crashposition.com in Aug 2007.
I first saw the Doug Anthony AllStars in the Pleasance Cabaret Bar. If you've been paying attention you'll know that that was also where The Pod played their late night gig. It's not a big space; it probably seats between 100 and 150 people max. It's size gives it an intimacy that you just don't get with any other venue. Oh yeah, and it's got it's own bar.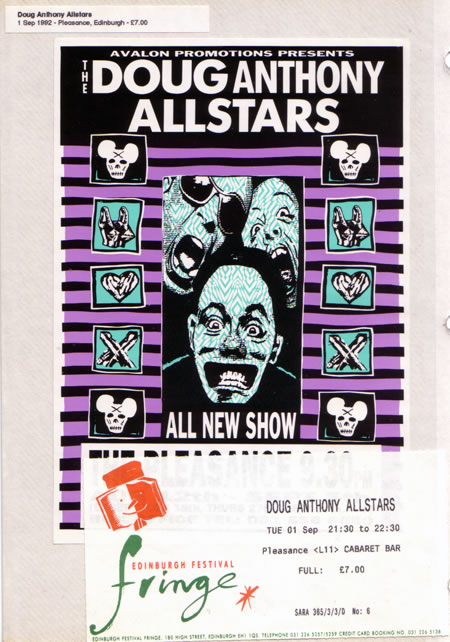 The Doug Anthony AllStars were a highly explosive Australian three piece who sang songs and performed anarchic feats of audience participation. Often crude but incredibly intelligent, there was a palpable sense of danger about going to see them. At the end of the show we were herded out into the Pleasance courtyard where various members of the audience were encouraged to jump into a raging bonfire.
The following year they filled one of the biggest halls on the Fringe (The Assembly Rooms) but experiencing this much energy in such a small venue was like having a nuclear bomb go off in your living room. Hilarious, terrifying and thoroughly exhilarating. Just to max out his stress levels my brother bootlegged the show. It's a wonder he didn't have a heart attack.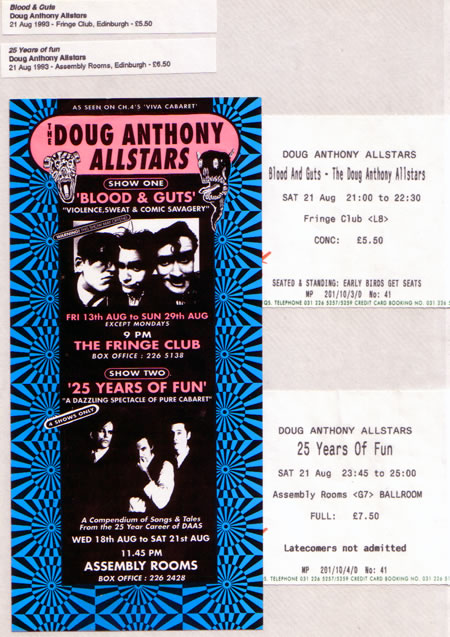 This was DAAS last year at the Fringe and they put on shows in two different venues. The first, 'Blood & Guts' was another small venue, part of Edinburgh University. There were two levels of seating: a ground and a balcony level that went all round the room. Naturally Paul picked on some audience members that were feeling safe up on the balcony and went for them. The end of the show involved the guys juggling cans of beer that eventually exploded over the audience. I have a great shot these can going off somewhere, which if I can find I'll post it.
One thing I haven't touched on was their vulnerable side. In the midst of all their extremes they would regulate the tension with a completely straight, and often breathtakingly beautiful cover song. Favourites include, Marvin Gaye's 'Heard it through the grapevine', 'Throw Your Arms Around Me' by Hunters & Collectors and Nina Simone's 'Don't Let Me Be Misunderstood'.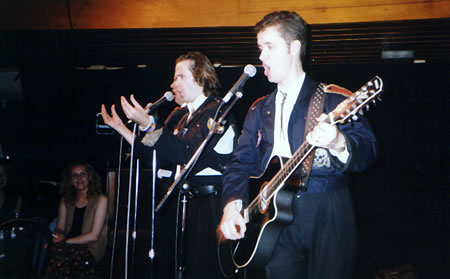 After seeing the guys in small venues I wasn't sure what to expect from their show at the main hall in The Assembly Rooms. All the big name comics play here. It's a nice enough building and they run the shows like clockwork but it's got all the intimacy of an air display.
Greg Proops vs DAAS deathmatch
Fortunately we timed this one right. It turns out that every night prior to our show DAAS had encouraged the crowd to stamp their feet and make as much noise as possible. The ensuing carnage had drowned out Greg Proops, who was performing his one man show downstairs. Bits of plaster were falling from the roof. Two weeks of this had really ticked him off a bit and he finally snapped. Rounding up his entire audience he took them upstairs and stormed our stage.
Okay, no contest really. Three against one, he didn't stand a hope but the ensuing chaos was awesome. Sadly the bootleg of this one didn't come out, but I know for a fact that a copy exists as we met the sound engineer the following day. Somewhere out there is this show!
I saw them one last time before they split, in Glasgow in 1993, and they were as good as ever. A beautiful, ugly, hilarious juggernaut. God I miss 'em.
Pucker up… it's the DAAS
In the park, after dark…
Published