This post previously appeared on crashposition.com in Aug 2007.
Few people embody the spirit of the Fringe more than Arthur Smith. For four weeks a year the London comedy circuit ups-sticks and moves to Edinburgh, where they proceed to drink. Although Arthur is off the booze these days back then his exploits were legendary. Along with friend and occasional co-host Malcolm Hardee they could often be seen emptying the bars of Edinburgh. Although both had booked venues and sold tickets, the difference between Arthur and Malcolm was that Arthur would usually arrive with a show.
Arthur Smith Sings Andy Williams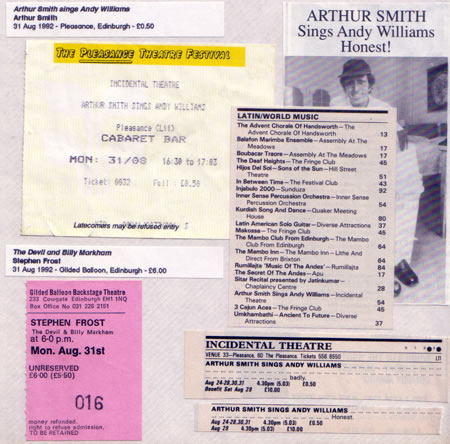 Accompanied by Tony Hawks on the piano (and high notes), Arthur introduced us to the character ofArthur Cravan, a 19th century poet, surrealist and boxer. Part lecture, part road trip, part cover band; the story of his life is interspersed with the songs of Andy Williams. Embracing the surrealist nature of his subject matter the show was advertised in the Latin music section of the Fringe guide. It cost 50p and entrants were then offered £1 to leave, thereby making a profit.
Voted by Guardian comedy critic William Cook as the best comedy show of all time, it's not hard to see why. The show didn't just play with the form, it tore it up and started again. The show's lecture style paved the way for the likes of Dave Gorman and Yoram Bauman.
The Edinburgh Rock Show

Arthur's walking tours of Edinburgh are legendary affairs. It is not unknown for participants to be arrested en route. This was the same sort of thing with a twist. Arthur had hired a bus to drive us out into the countryside, whereupon we hiked up a mountain and were ambushed with a short play. We then went to the pub for a pint, another play, some fireworks and the unplanned protestations of a local woman and her dog.
All the while Arthur was wearing a costume that i find difficult to adequately describe. Imagine if you will a sort of cat-suit with a bright face and a big cigar appendage. Arthur is the self proclaimed "King of Balham". I would often pass him on the tube when I lived there and every time I did, the memory of that outfit haunted me. At the start of the Edinburgh Rock Show he offered £500 to anyone who could write a sketch to go with it.
Hamlet by Arthur Smith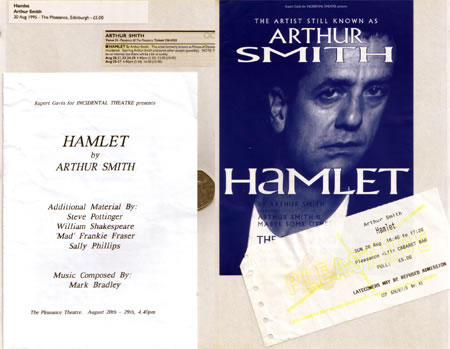 "Programmes, 50p. Programmes, 50p!" The shout goes out as we stand in line for the show. "Yeah, I'll have one", I say. "Here you go sir. Here's your programme, and here's your 50p." Genius.
Another show from the Pleasance Cabaret Bar, as was 'Arthur Smith sings Andy Williams' incidentally, this one had a crowd deafening finale courtesy of some close proximity opera singing. This was more than likely the work of Richard Thomas (Jerry Springer the Opera) who is credited with working on the show. Playing Ophelia to Arthur's Hamlet was the gorgeous Sally Philips (Green Wing, Smack the Pony). Another triumph.
The TV version of Arthur Smith Sings Andy Williams
Published